ERS 5000. Engine Room Simulator


Purpose
The Transas Engine Room simulator is designed to train and assess the competence of engine department personnel, including officers in charge of an engineering watch, second and chief engineers and ratings forming part of engineering watch.
Training objectives
Engine room equipment familiarization;
System layout and flow diagrams;
Machinery control:
Control system:
Automation, alarm and safety system:
Emission control and fuel economy management;
Energy management
Emergency operations;
Watch-keeping and troubleshooting;
Vessel resource management.
Simulator versions
ERS 5000 is a light version with generic system layouts, facilitating familiarization with engine room systems for cadets and ratings. This version is ideal for maritime schools and colleges.
ERS 5000 TechSim is an advanced version that provides an exact. detailed copy of vessel systems and simulates machinery and engine room compartments. The ERS 5000 TechSim version was developed for engineering staff and provides hands-on experience in watch-keeping, troubleshooting and resource management. This simulator is a solution for training centers, academies, governmental authorities, shipping companies and crewing agencies.
Functionality
Trainee software features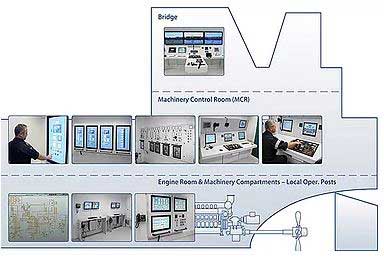 Ship's diesel propulsion plant;
Ship's electric power plant
Auxiliary systems and machinery,
Local control from the engine room;
Machinery sound imitation;
Alarm systems with Sound 8 Visual Alarm Unit
3D visualization.
Instructor software features
Exercise editor;
Trainee briefing facility,
Monitoring and recording the trainees work in online mode;
Debriefing facility for viewing and analysing the recorded exercises;
Extended possibilities for exercise data printing;
Tutor evaluation and assessment system;
Integrated communications system.
.